11/22/2021 – Fortior Solutions is pleased to announce that we were the recipient of two Platinum level 2021 'ASTORS' Homeland Security Awards from American Security Today (AST), for Best Access Control & Authentication Solution, RAPIDGate® and RAPID-RCx®, and for Extraordinary Leadership & Innovation.
The 'ASTORS' awards were presented on November 17, 2021 in New York City during the ISC East conference at the Jacob Javits Convention Center. TSA Administrator David Pekoske served as the keynote speaker at the awards event.
The Annual 'ASTORS' Awards event is the preeminent U.S. homeland security awards program. The program recognizes industry leaders of physical and border security, cybersecurity, emergency preparedness management and response, law enforcement, and first responders, as well as federal, state and municipal government agencies in the acknowledgment of their outstanding efforts to Keep our Nation Secure.
The Annual 'ASTORS' Awards Program is specifically designed to honor distinguished government and vendor solutions that deliver enhanced value, benefit, and intelligence to end-users in a variety of government, homeland security, enterprise, and public safety vertical markets.
"'ASTORS' nominations are evaluated on their technical innovation, interoperability, specific impact within the category, overall impact to the industry, relatability to other industry technologies, and application feasibility outside of the industry," said AST's Publisher, Michael J. Madsen.
This is the second time Fortior Solutions has been honored with 'ASTORS' awards. In 2016 we were the recipient of a Platinum 'ASTORS' Award for Best Access Control & Authentication Solution and a Gold 'ASTORS' Award for Best Integrated System for HSPD-12 & FIPS 201 Compliance Category.
Fortior Solutions President & CEO Jim Robell commented, "What a wonderful time for our company to receive this achievement, in the month of our company's 20th anniversary. We are honored to be recognized for our multiple achievements in AST's distinguished 2021 'ASTORS' Awards Program for advances in our RAPIDGate® and RAPID-RCx® platforms. Our access control solutions are world class. We are proud to protect U.S. homeland security by helping organizations strengthen protections from internal and external threats."
AST highlights the most cutting-edge and forward-thinking security solutions across a wide variety of media products delivered to more than 75,000 government and security industry members.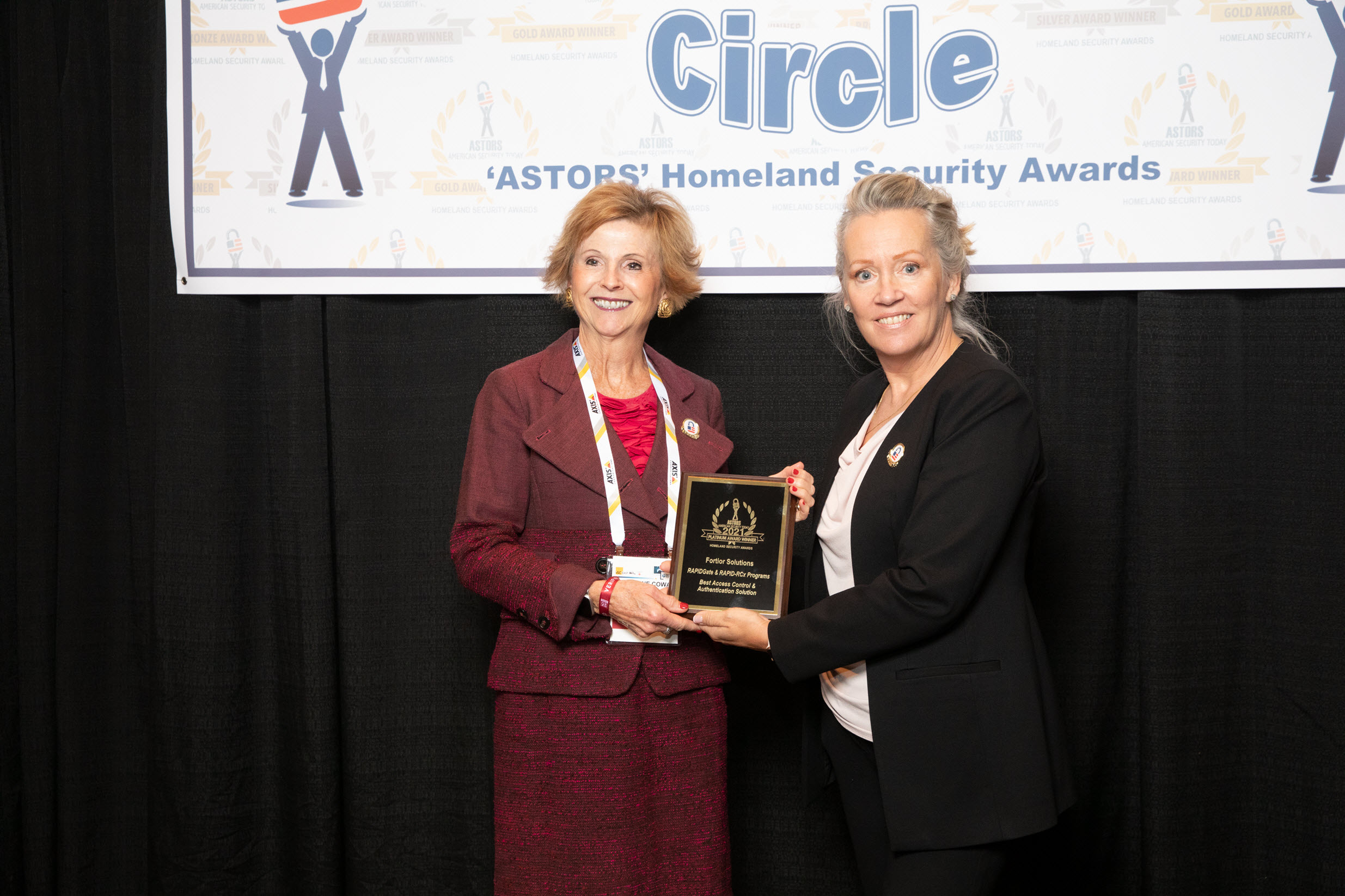 Award accepted by Katherine Cowan, General Counsel and Secretary