INNOVATIVE ACCESS CONTROL SOLUTION
In this heightened security environment, managing access eligibility for vendors, volunteers, team visitors, staff and others is paramount but can be burdensome and inefficient. With Fortior Solutions' innovative technology we can help make access control easier, faster and more reliable to protect people, assets and facilities.
Our trusted solutions support the NCS4 Intercollegiate Athletics Safety and Security Best Practices Guide and allows you to be more effective and efficient
Digital list management for authorized personnel, broadcasters, vendors, and others
Background screening (including NCIC checks)
Electronically Validate IDs (minimize reliance on visual verification)
Issuing venue credentials
TRANSFORM HOW ACCESS CONTROL IS MANAGED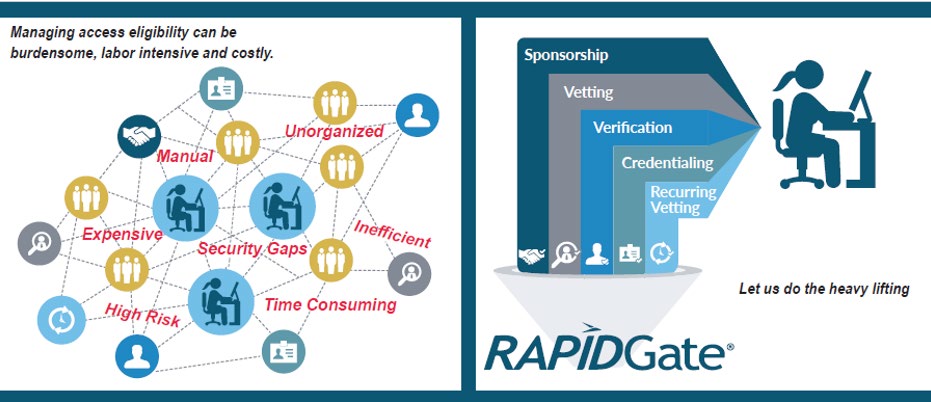 INFO TO GO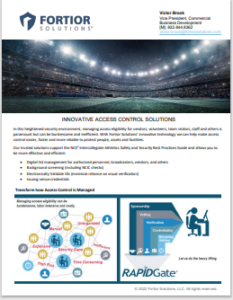 Please enter your email to download a printable information sheet.
INTERESTED IN A DEMO?
When you work with Fortior Solutions, you can rest assured you will have best-in-the-industry support for our products, throughout implementation and for as long as you utilize our programs. And unlike many security solutions, we also offer support to participating companies and individuals with whom you work for a positive experience at all touch points.
Fortior Solutions is committed to making our products and services accessible to persons with disabilities.
Section 508 Compliance: Section 508 of the Rehabilitation Act of 1973 (29 USC 794d) requires federal agencies to make their electronic and information technology accessible to federal employees and members of the public with disabilities. A Voluntary Product Accessibility Template, or VPAT, is a form used to describe how a product meets the technical standards of Section 508. Where applicable, the VPAT documents that describe the accessibility features of Fortior Solutions' products and services are available upon request.